Publications
Linked below are selected publications by Dr. John Kasarda addressing the basics of airport city and aerotropolis planning and development as well as articles on his work and that of Aerotropolis Business Concepts LLC. A more comprehensive set of publications can be found at www.aerotropolis.com.
---
"International airline routes are the quintessential manifestation of 21st century globalization. They are our high-speed physical Internet, moving people and products quickly and efficiently over long distances. Airports are its routers, attracting time-critical, globally-oriented businesses of all types to their environs creating a new urban form – the Aerotropolis."
Time Magazine, 2011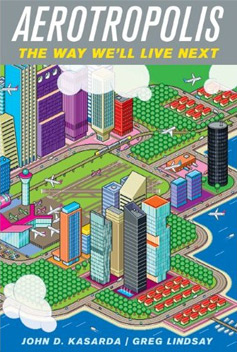 "The aerotropolis is the physical incarnation of globalization made concrete in urban form reflecting local interfaces of worldwide airborne flows of people and products."
John D. Kasarda
"In today's globally-networked, turbulent economy it is no longer the big eating the small but the fast eating the slow. Economies of speed have become as important as economies of scale and economies of scope for firms and cities to compete."
John D. Kasarda
"A well-designed aerotropolis functions as an 'urban pipe' reducing time-cost frictions of space and distance, thereby increasing both firm and regional operational efficiency."
John D. Kasarda
"The primary metrics for aerotropolis planning are not space and distance but time and cost of connecting. It is not how far but how fast firms and business people can connect to their suppliers, customers, and enterprise partners locally, nationally and globally."
John D. Kasarda
"Cities used to be almost exclusively destinations and airports solely places of departure. Now airports are becoming destinations and cities places of departure as their residents and workers increasingly travel to emerging airport cities and aerotropolises around the world."
John D. Kasarda
"A globally competitive aerotropolis will not likely evolve on a spontaneous, ad hoc basis. Rather, it must be guided by a shared vision, strategy, and coordinated actions among the private, public, and institutional sectors."
John D. Kasarda
"In the Aerotropolis model, transportation and logistics are not costs to be minimized, but value-adding services to be optimized."
John D. Kasarda
"Airports today are not just trade facilitators; they are trade creators by quickly connecting businesspeople and high-value, time-critical products to distant customers and markets."
John D. Kasarda
"Under Global City 4.0, exports of knowledge-based, information-intensive business services – delivered to distant sites by air traveling auditors, consultants, corporate lawyers, investment bankers, marketers, and professionals of all types – will far eclipse the value of the Global City's goods exports."
John D. Kasarda
"As our world becomes increasingly networked, ever-greater amounts of commerce will flow to and through its hubs, especially its major air hubs and the metropolitan regions they serve, creating a global hierarchy of aerotropolises established by the strength of air hub connectivity and resulting value of goods and services trade generated."
John D. Kasarda